Rockwell Supplements
When people ask me about vitamins I tell them that anything that's sold on Rockwell is guaranteed good. They sell only high-end brands, most of which are products you'd only be able to get in a practitioner's office. But the best part is that they have a hugely informative site, and an on-site nutritionist/dietitian who is incredibly knowledgeable and who does free 15-minute consults to help you choose just what's right for you. That's something you can't get on Amazon!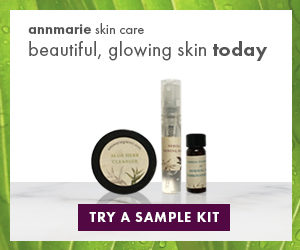 Ann Marie Skin Care
I am a sucker for skin care products—I try everything. And I can honestly say that, the Ann Marie Skincare line is the best stuff I've ever used. It's all organic, there isn't a toxic chemical in any of their formulas, and it feels (and smells) unbelievable. And it's amazing for men. I put the five products I use daily in one package—they're the only ones you'll ever need… Or just try their trial pack just to see what I'm talking about.
Butcher Box
Don't be fooled by grass-fed labels—all cows are grass fed for the first six months of their lives. You want 100% grass-fed, NOT "grain-finished". Butcher Box sends you a monthly box of the most perfect, 100% grass-fed beef you'll ever taste. I especially love these guys because they're the only ones I know who sell only 100% pasteured pork—no tail docking, no confinement, just happy organic pigs. I love this company! Click here to check it out.
Vital Choice
I've bought salmon from Vital Choice for over 10 years. I know Randy Hartnell, the owner—and I know the passion they have for sustainability and purity. Just about every functional medicine practitioner I know recommends Vital Choice—some of us even have our own "Doctor's Favorite" intro package. You can check out the Dr. Jonny "Doctor's Favorite" package—and all the other great Vital Choice products—here.
Mighty Maca
This drink was formulated by my good friend Dr. Anna Cabeca. It's ESPECIALLY great for men. Incan warriors would consume MACA before battle, believing it would make them "fiercely strong". MACA is well-known for it's ability to stimulate vitality, energy and well-being, and has even been called "natural Viagra". The MACA PLUS blend contains over 40 other ingredients that support health, all 100% non-GMO and organic. Plus it tastes good. Try it here.
Bulletproof – Brain Octane
Brain Octane is the only "MCT" oil that's 100% caprylic acid, which means it is rapidly absorbed and changed into ketone bodies faster than any of the MCTs. Translation: more brain power and energy. My buddy Dave Aspery even offers a money-back guarantee if you don't feel the difference. Can't beat that guarantee. Try it here.